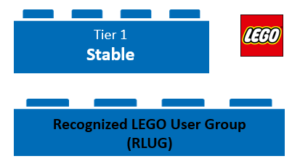 All Blocks is the latest LEGO® User Group in New Zealand to be recognised by The LEGO Group.
Some of the members focus on collecting official LEGO sets (both old and new), whilst others create their own models, known as My Own Creations – or MOCs for short – either by modifying existing sets or by building something wholly original.
It doesn't matter whether your LEGO collection is small or large, the emphasis in this group is to have fun and to enjoy creating models using the world's favourite construction toy.
All Blocks LUG exhibits all sorts of LEGO, from vintage sets, right through to the latest releases. The range of displays and sets is truly vast, with something of interest for everyone.
If you deconstruct the name: All signifies that everyone is included; Blocks is the foundation of our hobby. It is a word play on one of New Zealand's global brands.
All Blocks is based in Auckland.
What is a LEGO User Group?
A LEGO User Group (LUG) is made up of a diverse bunch of LEGO enthusiasts who enjoy displaying their LEGO creations at shows around the region.
A LUG must have at least 20 or more Adult Fans of LEGO (AFOLs) and Teenage Fans of LEGO (TFOLs) members that have formed a LUG. The LUG must have regular meetings with a focus on the LEGO hobby.
The LUG must participate in a minimum of three yearly AFOL events, two of which are driven or organised by the LUG.