This is just a reminder that the next All Blocks meeting will be on Saturday 11 May. There are three activities for this informal meeting:
A meeting to confirm the financial status of the Group,
A shared pizza night, and
A Dark Sky telescope night.
These three components to this gathering are completely independent of each other; you can come to any part of the three activities.
This Google Form has been set up to help plan numbers. Please let us know if you will be turning up to any component of the evening.
Finances
By 11 May, All Blocks LUG will have received the Show revenue from both our Helensville and Woodlands Park School events.
I would like to get All Blocks' finances clearly established at this meeting.
Shared Pizza night
Colin Doyle will be hosting this event and plans to make up some pizza bases, and provide the pizza sauce and cheese. All you will need to bring is your own toppings and your drinks.
Colin has a large, wood-fired, pizza oven.
Dark Sky telescope night
Following the pizzas, my brother, Steve Wardle, plans to set up his fabulous telescope and host a Dark Sky astronomical viewing opportunity. Once set up correctly, his telescope can automatically point to any star, nebula or astronomical feature and track it through the sky.
Colin's property is deep in the Waitakere Ranges and is clear of the light pollution normally found in inner city limits.
On 11 May, if the sky is clear, we should be able to see the following astronomical features:
In addition to these stellar features, if Orion and the Southern Cross are clear, we should be able to see the following nebula:
Other nebula may also be visible.
The success of the Dark Sky activity will be weather dependant.
Please check the following websites for the weather forecast:
Metservice .com This link takes you to the ten-day forecast for Waitakere ranges.
Metvuw.com This link takes you to their seven-day forecast charts.
The current forecast is 50:50. Here is the forecast map for Saturday evening.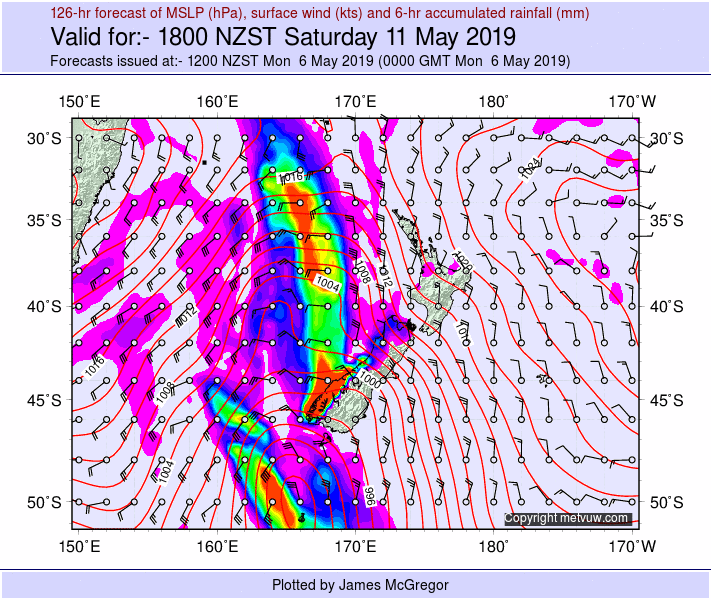 Timetable
The meeting will start at 5:00pm
Pizzas will be cooking at 6:00pm
Astronomical Twilight (when it is dark enough to see the stars) starts at 6:55pm
Location
Colin's place is 61 Duffy Rd, Waitakere, Auckland 0782
I look forward to seeing as many of you as can make it.
Please email me if you plan to attend this event so I can keep Colin informed as to likely numbers.
Thanks
David Wardle