I am pleased to announce that the LEGO Ambassador Network will soon be accepting applications from LEGO User Groups seeking Recognition status (RLUG).
Here is there statement made by Kim Ellekjær Thomsen, Community Manager of the
LEGO Ambassador Network, a few days ago:
"We are at a point where we are comfortable and ready for new communities to become recognized and part of the ever growing LEGO Ambassador Network. We have been working hard – or actually, the BrickMates have been working hard in 2018 (and 2019) to onboard and assist new communities and therefore we are now ready to welcome new communities."
"While we are aware that there are lots of communities out there who want to be part of the LEGO Ambassador Network, we also recognize that there is a limit to how many and how quickly we can add to the network and at the same time ensure proper onboarding. Therefore we will be limiting the number of communities we approve every month. This means that even if your application is approved it may be a few months before you actually gain access and have a BrickMate appointed. But all this will be properly communicated in the Application Process."

Read the full LAN blog post here.


The LEGO Ambassador Network (LAN) – Rules and Guidelines
RLUGs – Recognized LEGO® User Groups
The LEGO User Groups typically has a physical presence in a limited geographical area (for example a country or state). The members organize events, get together for build meetings and do local community work. The LUG may or may not collaborate with the local LEGO Business Unit.
The full RLUG rules can be seen here.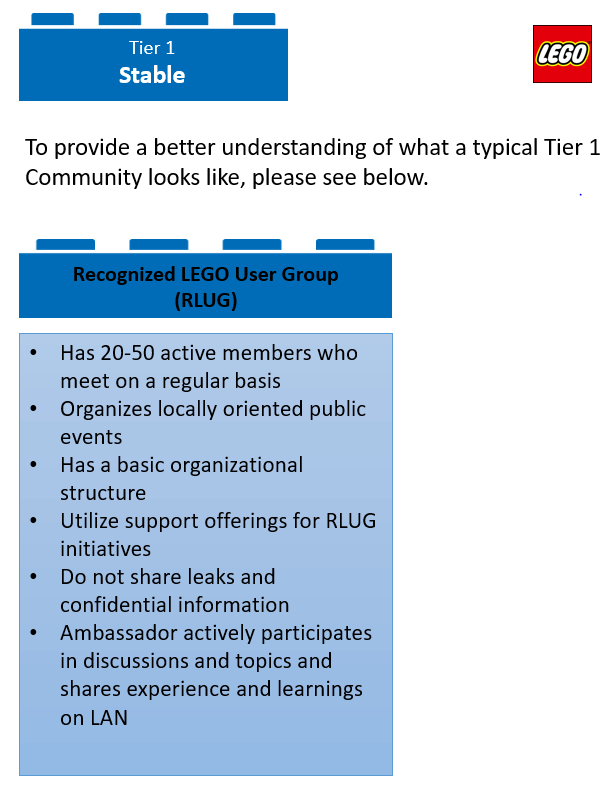 The way forward for All Blocks LEGO User Group
I am keen to have a robust application to put forward to the LAN towards the end of May 2019.
The application will showcase the All Blocks LUG activity that started with our first official public presence at Auckland Museum, Brickman Treasure Hunt which was held between 13 and 29 April 2018.
In my opinion, All Blocks LUG will need to host at least two further Brick shows before being eligible for Recognition status. I would like the next two shows to be held by the end of May but they could be hosted as late as August – which will delay the application by a few months.
To be eleible, a show needs to have at least ten AFOLs exhibiting and have a public attendance of more than 500 people.
Please do not read into this any time pressure in my suggestion of making May a deadline in the proposal: I would prefer that the events that All Blocks LUG organises are done in a stable way.
I have a few ideas for some new shows in the near future but I am interested to hear from anyone if they have some ideas that would fulfil this plan.
I intend to have the next All Blocks LUG meeting in two or three weeks – I'll set a date soon.
Thanks
David Wardle
President
All Blocks LEGO User Group