Hi All,
Welcome to our July newsletter.  This is an exciting time for All Blocks as we have our very first show coming up in 5 weeks!  Many of you will be aware that the All Blocks website has been updated this weekend and there are a few items in the newsletter relating to this.  Read on . . .
Minutes of the last meeting
Minutes from the meeting held on 28 May 2018.
Helensville Primary School – Student Group Visit to Hong Kong – Fundraising Event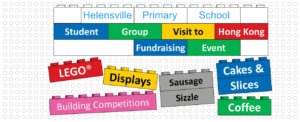 This is the focus over the next five weeks. School holidays cover the next week, so there will be four weeks when the school is open and active marketing by the school will take place.
Please add your display intentions to the Google Sheet for this event.
The venue is a school hall of similar size and layout to other schools that have recently held a LEGO related fund raiser.
An A3 PDF poster can be downloaded here.
The show is on Sunday 19 August, from 10am to  4pm.  Last entries will be 3:30pm.
Helensville Primary School Hall, 29 Rata Street, Helensville, Auckland 0800
[wpgmza id="1″]
Building Competition
Toyworld Henderson will supply four $50 gift vouchers for the Building Competition. The competition is primarily aimed at the students from the school.
There are four age categories in the comptition:
• 6 years and under
• 7-9 years
• 9-10 years
• 11-13 years
Helensville Primary School includes students in Years 7 and 8.
A panel of judges made up of members from All Blocks LEGO User Group will judge the entries and select one winner in each age category.
The rules for the competition can be downloaded here.
MakeX Robotics Competition – 1 July 2018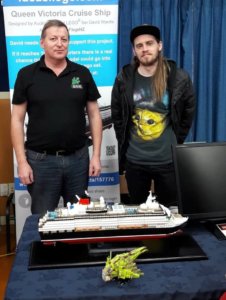 Two weeks ago, I met up with Hayden Pickford, the creator of the Kakapo LEGO Ideas Project.
New Zealand's two most supported LEGO Ideas were on display side by side.
Read more about Hayden's Ideas Project.
Toyworld Henderson had a shop at the MakeX Robotics Competition venue. It was also great to discuss how the All Blocks ongoing relationship with Amit can evolve.
Membership Subscription
It was agreed at the LUG meeting 28 May to charge Full Members an annual fee of $50. Additional family members will be charged $10 each.
This fee is to cover the initial costs of setting up a LUG. David Wardle has about $400 in LUG costs (primarily the website setup costs).
The $50 will pay for one All Blocks T-shirt and one All Blocks name badge (Two black 1×8 bricks and one 1×8 name brick).
Associate Members not wanting Full Membership will need to pay the costs of T shirts and All Blocks Name badges at cost price.
At the moment, All Blocks does not have any revenue generating capability. Once the LUG has held several shows, the annual fee will be readdressed and may come from profits of those shows.

Toyworld Henderson also want to issue All Blocks member cards. The discounts on LEGO available from Toyworld Henderson usually exceed the discounts available at other toy stores in Auckland.
Please fill out the Membership Status form.
New Email
The correct email to use to contact All Blocks is admin@allblocks.nz.
The former email still works (all.blocks.lug@gmail.com) and all emails sent to this address is automatically re-routed to admin@allblocks.nz with a notification of the change sent to the originator. If you still use the Gmail account, can you please update your address book.
Website
Over the weekend I have updated all the content of the All Blocks website.
The latest News sliders on the home page have been updated. New News Feed content has been updated and four new image galleries have been created.
The Helensville event appears on an Upcoming Events page.
One of the features of the site is that when there is a new post uploaded into the News Feed an email alert is sent out to all subscribers. You probably received a few of these alerts today.
Have you got any exciting LEGO related news items? Please send in any news or images that you would like uploaded to the News Feed or added to the Image Gallery.
Emails and Newsletters
The All Blocks website will be the primary place where members manage their profiles and where LUG notifications originate. There is an All Blocks LEGO User Group – Members Only Facebook Group which is secret (that means it is not visible to anyone not registered as a member of the Facebook Group.
We want to ensure that we reach everyone, however due to the two methods of notifying members of LUG activity this means people who are members of the website and the Facebook Group get notified twice.
The Facebook Group has some advantages – everyone who is a member can see everyone's activity and it is easy to see member engagement.
Ideally – the website will be used for bulk newsletters and Facebook will be used for more immediate updates.
If you are not a member of the Facebook group, send me a PM and I will add you to the Members Only secret group.
Website Security
At the moment the login process to the All Blocks website requires a verification number to activate your login. The verification number is sent to your email inbox. This extra security is being enforced as there are too many members with weak passwords.
A strong password consists of at least six characters (and the more characters, the stronger the password) that are a combination of letters, numbers and symbols (@, #, $, %, etc.) if allowed. Passwords are typically case-sensitive, so a strong password contains letters in both uppercase and lowercase.
At the moment there is very little content on the Members Only page. This will change soon as meeting minutes, LUG calendar and other sensitive non-public content will appear there.
When members have increased their password strength the verification process will be softened. It is a membership requirement of All Blocks LEGO User Group that members use strong passwords for login to the website.
People who do not update their passwords will be removed as a users of AllBlocks.nz. The three admins of the website can see the strength of users' passwords but cannot see the passwords themselves.
Please take the time to update your passwords now.
Next Meeting
The next All Blocks LUG meeting will be held next Sunday 22 July from 2pm.
The venue is yet to be decided.
We have some really passionate and talented LEGO builders in this Group and I'm really looking forward to the exciting opportunities that await our new LUG!
David Wardle