Hi All,
I would like to hold the next meeting at Vaughan Blok's place on Sunday 9 September at 12 noon.
I am aware that some people may have other commitments later in the afternoon so this meeting will conclude by 1:45pm.
Draft agenda:
Feedback and debriefing from the Helensville show
Bank account
Next All Blocks show possibility
Someone to manage All Blocks Social media
8x8x8 Vignet build
Feedback and debreifing from the Helensville show
This is the first meeting since the Helensville show. I would like to gather all feedback on how that show went for people. What worked well; what things could have been done better; any comments are welcome.
Bank Account
I am hoping that by this meeting a new club bank account will have been opened to manage the Group's finances.
Next Show
There is a possibility that the next All Blocks show will be held very early in October at a school in West Auckland. I had hoped to have more concrete details for this event but this has not been forthcoming by the end of the week. I will be establishing better information during the coming week.
The issues are:
This is in the school holidays.
There is another show in the first weekend of November.
It is only four, maybe five, weeks away.
It would be good if people could potentially get any display pieces ready.
Someone to manage All Blocks Social media
I would like someone to manage the All Blocks social media particularly in the week(s) leading up to a show and the day(s) of the show so that we maximise the potential and get our message out to the wider community.
8x8x8 Vignette build competition
I would like to start having some LEGO creativity at our meetings so I though of holding a new 8x8x8 vignette competition.
The format is to build on a 8×8 plate base. Two walls are made of four 8×1 bricks and then the two walls continue with the four 8×1 bricks offset by one stud.
If you would like to enter this competition, please build a new 8x8x8 vignette. Models submitted at the previous competition will not be valid entries.
Finally one plate and/or tiles cap the top of the walls. See the image below.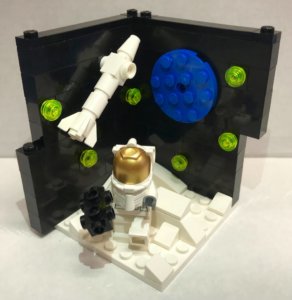 The vignettes will all interlock each other if they are built to this format and I would like to display these at future shows.
There will be a prize for the best build as voted by members attending the meeting on the day.
You can design anything you like provided it fits into this format. Get in touch with me if you need further information.
If you aren't able to build a vignette then bring along a MOC (My Own Creation) or set that you want to showcase. These won't be considered for the competition though.
Thanks,
David
Here are directions to Vaughan's place:
Vaughan's Place